Department of Research & Editing
Department of Research & Editing
---
As has been stated above, this was the first ever department established in 1988 whose first research scholar was Dr Ali Akber Qadri. From 1988 to 1992, he had the services of people like Ziaullah Nayyer, Prof Muhammad Ilyas Qadri, Dr Muhammad Nawaz al-Azhari, Prof Naeem Anwar Nomani, Dr Muhammad Arsahd Naqishbadi, Allama Muhammad Ilays Azami and Allama Muhammad Ramzan Qadri etc in different times. With exception of Ziallah Nayyar, the rest were the students of Jamia Islamia Minhaj-ul-Quran who would also render their services in the research institute in addition to their formal education. In 1992 when Dr Ali Akber Qadri, Dr Muhammad Nawaz al-Azhari and went to Egypt for higher education on scholarship, Prof Muhammad Naeem Anwar Nomani, Muhammad Ali Qadri, Muhammad Tajjidun Kalami, Muhammad Afzal Qadri and Abdul Jabbar Qamar were appointed as fresh research scholars. Later on the full time services of Prof Muhammad Rafique, Allama Sohail Ahmad Saddique, Riaz Hussain Chaudhry and Abdul Sattar Minhajian. These three people especially Riaz Hussain Chaudhry worked day in and day out diligently under the supervision of Shaykh-ul-Islam on the historic project of 'Seera-tus-Rasool".

Majority of people giving their full time services in this department belong to COSIS due to their specialization in the religious sciences. They include Muhammad Tajjidun Kalami, Muhammad Ali Qadri, Muhammad Afzal Qadri, Muhammad Farooq Rana, Muhammad Hanif, Hafiz Farhan Sanai, Hafiz Zaheer Ahamad al-Asandi, Ajmal Ali Mujadadi and Husnain Abbas. In addition to these, those who quenched their thirst of knowledge from Iraq and Egypt like Dr Ali Akber Qadri, Dr Muhammad Zahoorullah Qadri al-Azhari, Dr Muhammad Nawaz al-Azhari, Faizullah Baghdadi, Hafiz Zia-ul-Haq Razi and Hafiz Muzammal Hussain Baghdadi are also performing their duties here.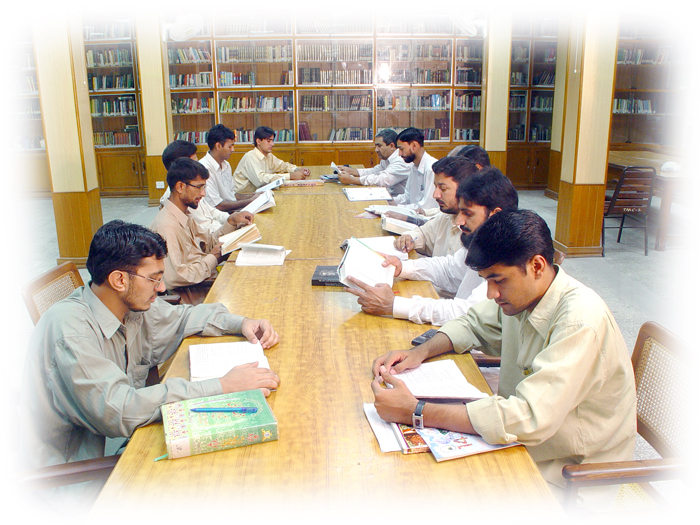 The past students of COSIS have put in extreme amount of hard work. This efficient research staff of department of research and editing consisting of men and women is busy in spreading the message of Shaykh-ul-Islam Dr Muhammad Tahir-ul-Qadri in printed form with complete devotion and commitment. The quality of research and standard of books produced by FMRi is comparable to any high quality research organization anywhere in the country. Due to great performance of this department, the intellectual services of MQI are held in high esteem in the scholarly circles.

The graduates of MinhajCollege for Girls and other female research scholars are also engaged in service here with their complete commitment. Fareeda Sajjad, Misbah Kabeer, Nazia Abdus Sattar and others are performing excellent services in this regard, whereas Rafia Ali, Asia Saif Qadri and Kauser Rasheed are also part of this team. Due to efforts of female scholars, some books under the supervision of Shaykh-ul-Islam have been published.

In addition to the full time researchers, distance scholars are also welcomed here. They include those people who cannot come to Research Institute due to their engagements or any other reason but they also take part in this blessed work through their creative contributions. People living outside Pakistan also contribute their share in this regard. Moreover, teachers of MinhajUniversity also continue to undertake various research projects from time to time. They include Prof Muhammad Nawaz Zafar, Mufti Abdul Qayyum Hazarvi, Muhammad Ilyas Azami, Mumtaz-ul-Hassan Barvi and Shabbir Ahmad Jami etc. The seekers of knowledge also frequently visit FMRi for fulfilling their scholarly needs. Students of M.Phil and PhD visit FMRi and consult books of its library here.
Irfan-ul-Quran
---
Direct the believing men to keep their eyes always lowered and guard their private parts. That is purer for them. Surely, Allah is Well Aware of (the works) which they are busy doing. (Sura an-Nūr, 24 : 30)
Donate for FREE Islamic Literature
---